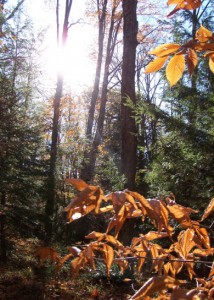 When I look back on my early life, it isn't the hundreds of days I went to school that stand out in my memory. It is the one single day my duty-driven father unexpectedly said to my sister and I: "Girls, it is too beautiful a day to go to school. Get in the car. We will drive to York Forest."
He packed a picnic lunch—his famous ham-and-tomato sandwiches, and a thermos of lemon tea with honey. We drove out to a favorite regional forest, and walked the forest trails for miles on that sparkling, bright morning with golden leaves fluttering down all round us.
We sat on a bank at the side of the trail in the cool October sunshine, warming our hands on cups of hot lemon tea, eating our sandwiches. And my father spoke with simple happiness about God; of how beautiful the world He made could be.
Forty-five years later, that morning still shines.
And even though he died many years ago and I am now disabled, I still walk in York Forest with my father, and rejoice.